Online football manager - online game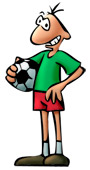 The Football Arena is an online football manager that you can play on your computer. The only thing you need is the internet browser and a bit of your free time. To manage a football team is a big commitment. However, it is not necessary to be online everyday. In fact, it is enough to check your team once or twice a week to set league, cup and friendly matches line-up, to see training results and maybe to buy some new players.
The Football Arena is an online football manager, where you compete with other players from many countries all over the world. There are both league matches and national teams.
Football Arena - Sign up
If you want to be one of us, you can register any time. The game registration has two steps. First of all you must choose a country to play in and a name of your team. The request will be sent to the administrators, who will evaluate it and then assign you the requested team. At this point you become both a manager and a coach and the future of your team lies just in your hands. We wish you a lot of fun in our online game.